.
A snow blower is a powerful machine, able to grab heavy snow and ice, grind it up, and throw it dozens of feet in the air. But when people are careful with their machines, accidents can happen.
Joe Sakic
The longtime Colorado Avalanche hockey player got tangled up with a snow blower- literally. Snow was packed in tight inside the machine and though he had turned it off, he still reached inside the auger. Sakic ended up with three broken fingers and severe tendon damage to one of them, and was scheduled to miss about three months devoted to healing and rehabbing.
Kenny McGill
In 2010, this then 15-year-old pitcher– usually tasked with clearing the snow outside- ran into problems with the snow blower. His parents had told him there was a dangerous main blade inside that could cause a lot of damage, so he kept his hands away. But where he didn't was inside the chute, the location of a second blade that was still spinning very fast. McGill ended up shaving the tops off his index and middle fingers on his right- pitching- hand. He tried returning to baseball, but performed so poorly he's considering the finger-less sport of track.
Jane Doe
An unnamed woman in Grand Forks, North Dakota left her snow blower safety smarts inside when she cleared her driveway. It's not quite clear how the accident happened (her husband was using the snow blower), but she wandered too close and got her pants caught in the auger. When paramedics arrived, they had to cut her leg free from the blades, although one foot had already been run over.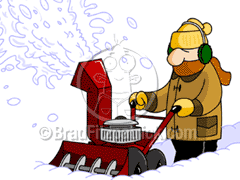 Mario Gianfrancesco
This 34-year-old carpenter of Mineola, Long Island should have been used to using safety, as he uses sharp tools in his profession. But fell one step short of complete precaution: Gianfrancesco turned off his snow blower, but used his hand to reach in and clear the clogged snow, and not a wooden or plastic handle. Because of his mistake, he almost lost the tips of two fingers. Luckily, surgeon Dr. Tommaso Addona was able to reattach them and predicted he'd have full use of his fingers in three months.
Prince Edward Island
In eastern Canada, an unnamed man was using a snow blower at work when, thinking the machine was off, he stuck his hand into a snow blower to clear it. It wasn't, and he lost part of his hand.
There's a pattern here: even if you've turned the snow blower off and unplugged it, never reach in with your hand to clear clogged snow. Using a stick instead is a much better idea, but with our selection of Toro and Ariens snow blowers, chances are the power and efficiency of these machines will do the job just fine. Enjoy free shipping to the lower 48 states.
.