When most people think of snow blowers, they visualize a utilitarian machine that's designed for one thing, and one thing only: clearing snow. But with a little creativity, you can turn your snow blower into a winter weapon of fun.
Mazes
This one requires you to have a fairly sizeable property, but that's about it. Just wait until you've accumulated a decent amount of snow, dust off a heavy-duty snow blower, like the Ariens Deluxe Track 28 (now conveniently on sale) or Toro Power Max 826 (also on sale right now), and go at it.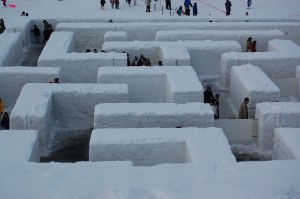 First, measure the area carefully and scale it down on graphing paper. Design your maze on the paper, grab a can of spray paint, a large roll of measuring tape and a toque, and head outside. You'll want to walk out the maze you've drawn, spraying dots, dashes or a line in the snow. The color of paint spray you use doesn't matter a lot, but choosing a lighter color will look a bit better in the long run.
Once you've spray painted the maze in the snow, stick cardboard or plywood on either side of the path so you can create snow walls, and then take your Toro or Ariens two-stage snow blower (you'll need a two-stage because of how much snow there'll be to power through) and blaze a path through the snow. The last step is just packing the snow tight against the temporary walls and then removing the cardboard, and laying down a bit of sand on the ground to create a delineated look. Voila! A snow maze you can enjoy all season!
Tobogganing Hill
Making a pile of snow with your Toro or Ariens snowblower is a lot easier than making a snow maze for several reasons: all you have to do is blow snow into a pile, you don't necessarily need feet and feet of it to have fallen, and there's no drawing or paint spraying involved.
Race Course
A slight variation on a tobogganing hill, a race course is pretty similar except you create lanes separated by walls on the hill. A two-stage Ariens or Toro snow blower, while usually terrific at carving a path, won't be good here because you'll have to take a snow blower down the hill to create walls. Measure each lane about 2 to 2.5ft wide and slide down it a few times first on a toboggan or Magic Carpet to create a workable groove.
Next, use your single stage snow blower, like an Ariens Path Pro SS21 or Toro Power Clear 418, to carve ruts. You'll want to keep three things in mind: put up cardboard or plywood on either side to help create walls for the race course; raise the scraper blades so the snow blower makes less contact with the snow, letting you keep a layer of snow thick enough to slide on; and make sure you descend the hill safely with your snow blower.
To do the last bit, you can guide the snow blower up the hill for better traction than simply walking it down. But the safest way of doing it is to loop a strong rope around the snow blower handle and guide it down the hill from a safe vantage point at the top. Or, if you have another body to help you, you can create a pulley system with the rope so you're holding one end at the top of the hill, easing it down, and the person at the bottom is manoeuvring it in a straight line.
For all snow blowers at Snow Blower Source, find the one that best suits your needs by browsing our selection. And remember, all snow blowers are shipped FREE to the lower 48 states!