Just like buying a Ferrari for the racetrack and a Honda Civic for daily life, choosing a Toro or Ariens snow blower based on snow fall and climate is just as important.
1. Consistency of Snow
Snow can come in many forms: powdery, light, wet, clumpy, icy, granular, slushy, pellet, or crust. Just imagine if you've ever been skiing, built a snowman, or tried to throw snowballs. Some forms of snow make it easier to glide over than others (just ask the skiers at the Olympics), some types are great for packing together, and others can get blown away at the slightest wind.
The consistency of snow has a big impact over what type of snow blower will be best for it. For example, a snow shovel is perfect for light snow, and would fail epically at blizzards. Knowing as much as you can about the consistency of snow over a season or several seasons will help you to make the best choice possible.
2. Height of Snow
Do you live in an area that only gets snow as a freak event, such as in parts of Nevada? Or do you live somewhere where it seems to snow for more months of the year than not? Although areas like Reno-Tahoe—known for snow and snow sports—have been getting less snow in recent years, they're still more thought of as "snow hotspots" than places like the Pacific Northwest.
How much snow falls in a season or over the course of several seasons is one of the most important things to look for when buying a snow blower, for different machines are built to power through different amounts of snow. A two-stage snow blower, for example, is far better able to handle a two-foot snowstorm than an electric single stage, so factor in snow height when buying a snow blower.
3. Amount of Space
How long is your driveway and walkway? If it's a small, curved driveway, that's far less space to deal with than a three car wide drive that's 40 feet long, and affects the type of snow blower to buy. This is where snow type and height isn't necessarily as important as gas or electric.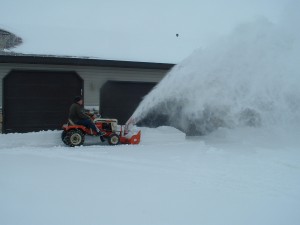 The benefits of an electric snow blower are it's easy to run (just plug in and go), there's no worry about running out of gas mid-job or changing the oil, and they're really quiet and light. However, their range is limited to as far as the cord can stretch—with the risk of running over the cord—and a gas snow blower can happily run for hours without needing to look at it. Gas snow blowers might be more difficult to start for people with strength concerns, but they also provide more power and clearing ability.
Now that you know exactly how to find the right snow blower, it's time to take a look at Snow Blower Source's inventory for a selection of the best Toro and Ariens snow blowers around. Each snow blower is shipped free of charge, so find yours today.