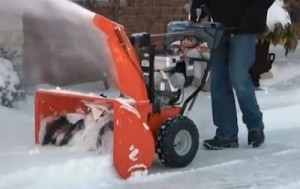 "This is a good snowblower, designed to handle tough winters, especially those we see in Maine. The 30 inch wide clearing path is excellent. This mean it handles more snow and your done faster than your neighbor, who may have a 24Ariens, like my neigbor next door. It starts on one pull ( or electric start), displays power even where the city plow piles it up at the end of your driveway. This is my second winter. just finished 15 minutes ago with a 14 storm. If these American made machines were tested in Maine, they would recieve an A rating. Good value for the money."
– Customer in Topsahm, ME
Get the job done faster with an Ariens Platinum 30 Snow Blower
Bring on the snow. With the Ariens Platinum 30 snow blower, your driveway and paths will be cleared out in no time. The 30″ wide clearing path requires fewer passes up and down the driveway, and with a snow thrown up to 50 feet, you can easily clear snow out of the way.
Ariens snow blowers are made with a heavy-duty cast iron gear case that stands the test of time. A 342cc Ariens Polar Force Engine gives you all the power you need.
More Benefits:
Clear snow faster with a 30″ wide path
Keep your hands warm with built-in hand warmers
Throw snow up to 50 feet
Get traction on snow and ice with Automatic Traction Control
Blow snow in the early morning or late in the evening with a powerful in-dash headlight
Ariens Two Stage Snow Blowers
Get dependability you can count on with an Ariens Two Stage Snow Blower from SnowBlowerSource.com! You'll get the best pricing around, fully insured shipping at no extra cost, and shipping that's faster than our competitors. All items shipped via freight are scheduled for delivery time with the customer (nobody likes surprises). All our items are shipped via FedEx. Order your snow blower today!